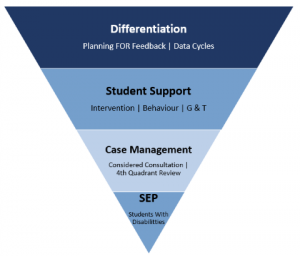 When I came to Payne Road State School in an attempt to outline the current levels of intervention and to determine who did what I developed this upside down triangle to outline the different levels of "differentiation" or "intervention" that students received.  In reviewing this and from ongoing conversations since the full school review it is becoming more obvious that this diagram does not quite outline procedures or give you all an idea of what level of support there is available or when you access that support for the students in your class.  Now I know that no diagram is going to make that suddenly fall into place but I am hoping that it can at least point you in the right direction.  So in the interest of looking at this I have begun drafting a new procedural diagram (is that even a thing?) with some feedback already from support staff and using a model based on Simon Sinek's work outlined in a previous post.  This model starts with the "WHY"…because we have to ask the question why do we look for these interventions or differentiate our curriculum…in my model I have added a simple statement here:
"Supporting all students with diverse needs to succeed"
This might not be our overall reason for doing what we do and I would appreciate your feedback.  The important word for me in this statement is "succeed".  My intention for this is to remind us that success for different students is different…The rest of the model will include (when completed) would include the "HOW", as in how this is achieved. and the "WHAT", as in what resources and processes will support that in your classroom…this will provide more collaboration to get this right. At this point it does not have details but I would like it to include elements of literacy and numeracy intervention, SEP intervention and the connections to our planning and data collection processes.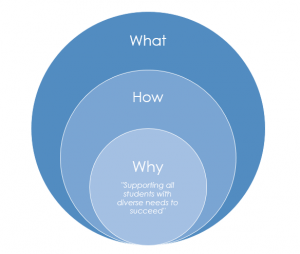 Your feedback is most welcome…