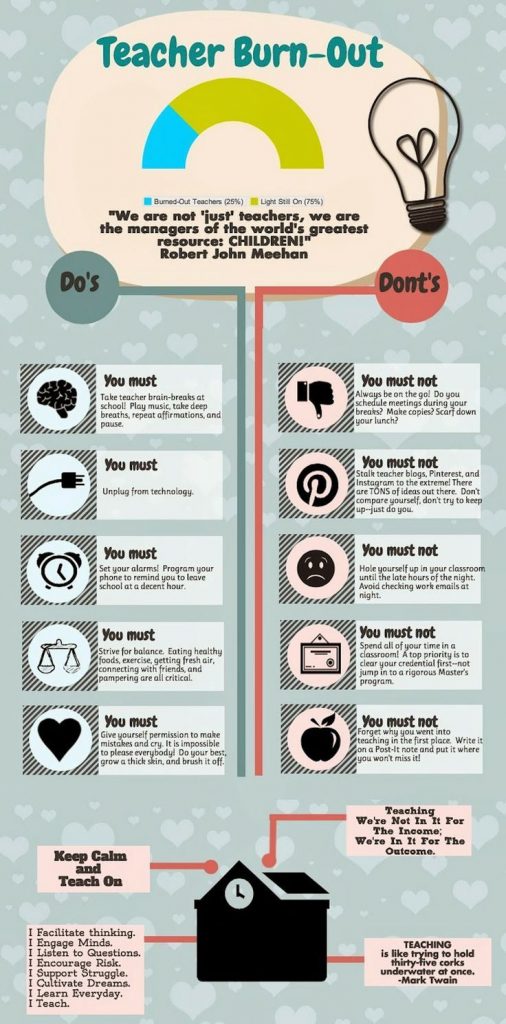 We have reached the end of another term and I thought I would share a couple of resources I have found online and some tips from a recent QELi conference I have attended.
It is important to plan for wellbeing…a strange concept to plan to feel well but if you don't take the time this job can take over your life.
At the QELi conference it was suggested to plan weekly for these elements:
BODY
HEART
SPIRIT
MIND
In short plan for your fitness, time with those that matter, something that makes you feel good and something intellectual to feed your mind (read a thought provoking book).
The stats:
Here are some eye-watering statistics:
over half of teachers (52%) say that they have seriously considered leaving their current job in the last 12 months and nearly half (47%) have seriously considered leaving the profession;
two fifths of teachers (41%) say their job satisfaction has decreased in the last 12 months;
teachers' biggest concern regarding their job is workload (79%), followed by pay and pensions (66%), changes or reforms in the curriculum (59%) and school inspections (51%). The vast majority of teachers (86%) say that their workload has increased in the last 12 months;
the majority of teachers disagree that teaching is competitive with other occupations in terms of either the financial rewards on offer (80%) or salaries (67%) and only 21% of teachers feel optimistic about their career opportunities;
the top three things teachers love most about their jobs are seeing children learn and progress (91%), interacting with pupils (90%) and making a positive difference (83%). (Source)
research by the Association of Teachers and Lecturers (ATL) found that 55% of teachers said work pressure is having a detrimental effect on their mental wellbeing. Note, the research was conducted in April 2014 by polling agency ComRes, surveying 2002 adults, of whom 1548 are parents and 933 have children under 25.
Questions:
The published article stems from the following questions:
Accountability: to whom are teachers accountable? Children, parents, school management, Ofsted, the secretary of state, the public, the media? Or are their own consciences the hardest taskmasters of all?
Are the biggest pressures internal or external? What can management do to alleviate those pressures and help teachers cope with the workload?
Professional development: should schools spend on this as an investment in people, rather than take a negative view and see it as a cost?
How has the decline in status affected teachers? Do they feel the need to justify their working patterns?
What does support look like? Preventative measures.