So 4 kids in a motorhome…whose crazy idea was that 🙂
Well it has certainly been an "adventure"…a word we began to mistrust every time we heard it discussed as part of the next element of our holiday…
I thought I would take an opportunity to share a couple of stories about some places we visited and the lessons that they taught me and I hope have had an impact on my children.  After all it is our children who may have the opportunity to right some wrongs and promote the positive messages we heard or saw along the way. Plus share a couple of photos…
I wanted to talk about a couple of places we visited and some impressions of the things we saw, the people we spoke to and also the sense of the history of the place.  For the point of this article I will just talk about Woomera and Coober Pedy in South Australia and Katherine Gorge and Kakadu in the Northern Territory.
WOOMERA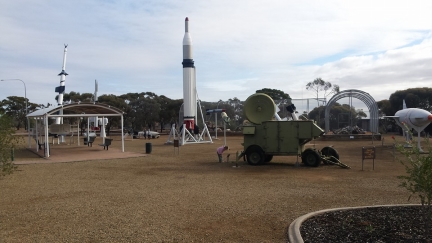 Not a lot to say about this place…really just a spot on a map that is famous for it's missile and rocket testing.  Mostly by the British and later the Americans.  The town has a park and a museum filled with rockets and missiles.  Only military staff and families work in this town.  Huge parts on the map around Woomera listed as no access zones around the town.  Lots of talk in the museums about all the great work of the various military forces and scientists etc…what was missing…not a lot of talk about the local indigenous population, nuclear testing or the effects of the environment and the traditional owners of the land.  It was sad to see but I guess a lesson to be learned.
COOBER PEDY
Like this piece of junk from a movie set (Pitch Black with Vin Diesel)  the town is littered with lots of broken bits of old cars, mining equipment and other random junk.  The whole area is made up of holes in the ground where many people come to make their fortune mining for opals.  It is a little sad what we do to our country in some places in search of wealth.  Though the locals seem to love it…definitely a quirky place.  We heard lots of other stories in our "adventures" about some of the crazy things early settlers did in some places in order to make their wealth.  One story of an early sheep farmer who brought 120000 sheep to Wilpena Pound (Flinders Ranges SA) and in two years turned it from a lush landscape into a desert.  It was good to see that it is now on the mend as a National Park.
KATHERINE GORGE
I taught in Katherine 20 years ago in my second year of teaching.  It was like the wild west to a young man from Brisbane even after doing a year in Alice Springs.  I like many city kids could not believe the state of behaviour and conditions of and for indigenous Australians and though as a child witnessing a lot of that casual racism within my own family and being ashamed of it at the time it was easy to fall into thinking about these stereotypes and feeling they were justified.
20 years on there are still big problems with alcoholism and racism in our country and it is on show in central Australia, however, we did have an opportunity to listen to a number of indigenous and non-indigenous tour guides and park rangers who gave me hope for the future of this country.
One young man who was our tour guide for the Katherine Gorge was indigenous but not from the Katherine area (he was from the Whitsundays).  He decided as it was his last week running the tour that he would alter his tour information.  He spoke of the local traditional owners and the great things that they were doing in the area to manage this beautiful place.  He told of their struggles and the history of the place.  One fact that had an impact was that it only became illegal to kill and Aboriginal person in 1960.  He talked of the destruction of the area and the effect on the local people in a little over a 90 year period (NT history of "colonisation" was a lot later than other parts of Australia).  He talked of the impact that a decision made in another part of the country depicted in the Paul Kelly song:
had a positive impact in Katherine and the traditional owners were able to fight for their land back.  In one of the greatest acts of forgiveness I have heard about the traditional owners decided to share their lands, despite everything that had happened to them, and openly encourage non-indigenous Australians and others to visit and share their culture.  Like a number of other indigenous Australian speakers I heard on this holiday he spoke with a pride and a confidence that I had not seen previously in this part of Australia and in other parts of Queensland that I have visited.
KAKADU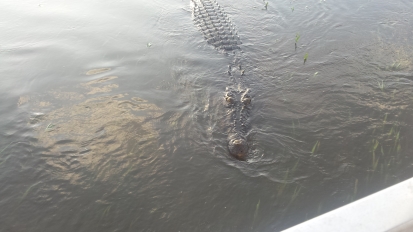 Lots of crocodiles (salt water crocodiles)…don't put your hand out of the boat…ever…
a very beautiful part of the country…despite the crocs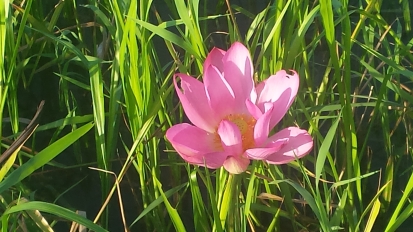 Again stories from tour guides and park rangers spoke of the skills of the traditional owners in managing the land.  Lots of information that puts some of our curriculum into perspective when it comes to learning about indigenous culture.  A culture that managed the land for tens of thousands of years and of a people who speak often 4 or more languages.  Their languages are part of their culture and the words tell a story about the objects they are describing that teach you about how to survive and the laws of their people.  It was fascinating.
All in all it was great trip…I am glad to be back though and I will end this post by sharing some photos that show how beautiful our country is and we should all be proud of it.