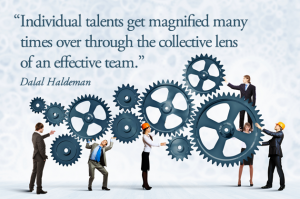 Why do we work in teams and what are the benefits of team working?
Good teamwork is essential for high performance in any business or non profit organisation. Certain features of voluntary organisations and charities make developing teamwork even more important. As well as enabling better performance teams can bring other benefits.
Benefits vary depending on the purpose and size of the team but may include some of the following. A team can:
apply a mix of skills that go beyond the scope of any one individual
solve complex problems that take more than one mind
generate new ideas
coordinate individual activities towards a common bigger goal
provide support and help to  team members
give people a sense of belonging
enhance communication
help people to learn from each other and develop
generate commitment.